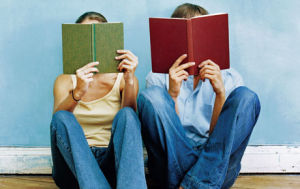 Megan Quigley, Children's & Young Adult Services Librarian
mquigley@columbiactlibrary.org   860-228-0350
My hours:  Mon. 11-5  Tues. 10-6  Wed. 10-5  Thurs. 1-8   Fri. 10-5
Books can be dangerous. The best ones should be labeled "This could change your life."
~Helen Exley
Welcome to the Saxton B. Library Teen page! Please contact me with any and all library questions and requests. I love to
recommend books, and I love to hear about your favorite reads as well!
Come on down and join the fun at an Upcoming Program, during Summer Reading, or at one of our Book Groups!
Don't forget to like us on Facebook! Hope to see you soon.