Updates
Info updated 7/5/22
---
Saxton wins prizes for 4th of July Parade!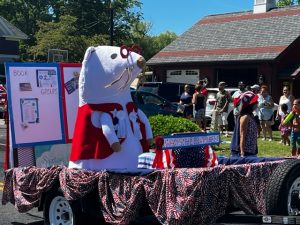 Thanks to all!
---
Masks are highly recommended for everyone when in the Library.
If you would like a mask when visiting us, please ask a staff person.
At this juncture mask wearing is a personal choice.  Please be kind and respectful of people's choices.
Curbside pick-up

 still available by request.
Programming is transitioning between Zoom, in-house and outside.  Please check the details at the Library, with Library staff, or with programming materials. 
Remember that we are still offering grab bags and Tailored Titles (a selection chosen with your likes/dislikes in mind). Instructions for searching the catalog, how to browse library shelves from home, and more are available by clicking here.
If you have questions or need to contact us, please call the Library at 860-228-0350.
---
Need help with Zoom?  Instructions here! 
---
We welcome your suggestions. Please email:  staff@columbiactlibrary.org  or visit our 
purple

Suggestion Box in the Library.
---
Please be sure to view the art work on display in the Library.
Stop in during June to see Library Patron & Staff projects and take a selfie with our magic wings.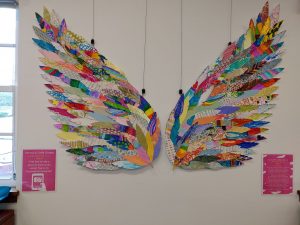 Click here for information about showing your work, In our Gallery
---
Library Association Board meetings take place on the 4th Monday of each month at 7:00 pm at the Library, with the exception of December.   Click here for agenda.