Story Time
COMING SOON:
Beginning Friday July 10th:
Join Children's Librarian Megan every Friday at 10:30
on ZOOM for Baby Bees! *No Baby Bees 7/31.
Email Megan @ mquigley@columbiactlibrary.org for the Zoom login information.
We will continue to post a weekly STORY TIME video every Tuesday
morning on the Library Facebook page and here on our website!
STORYOGA videos will be posted on the last Tuesday of the month.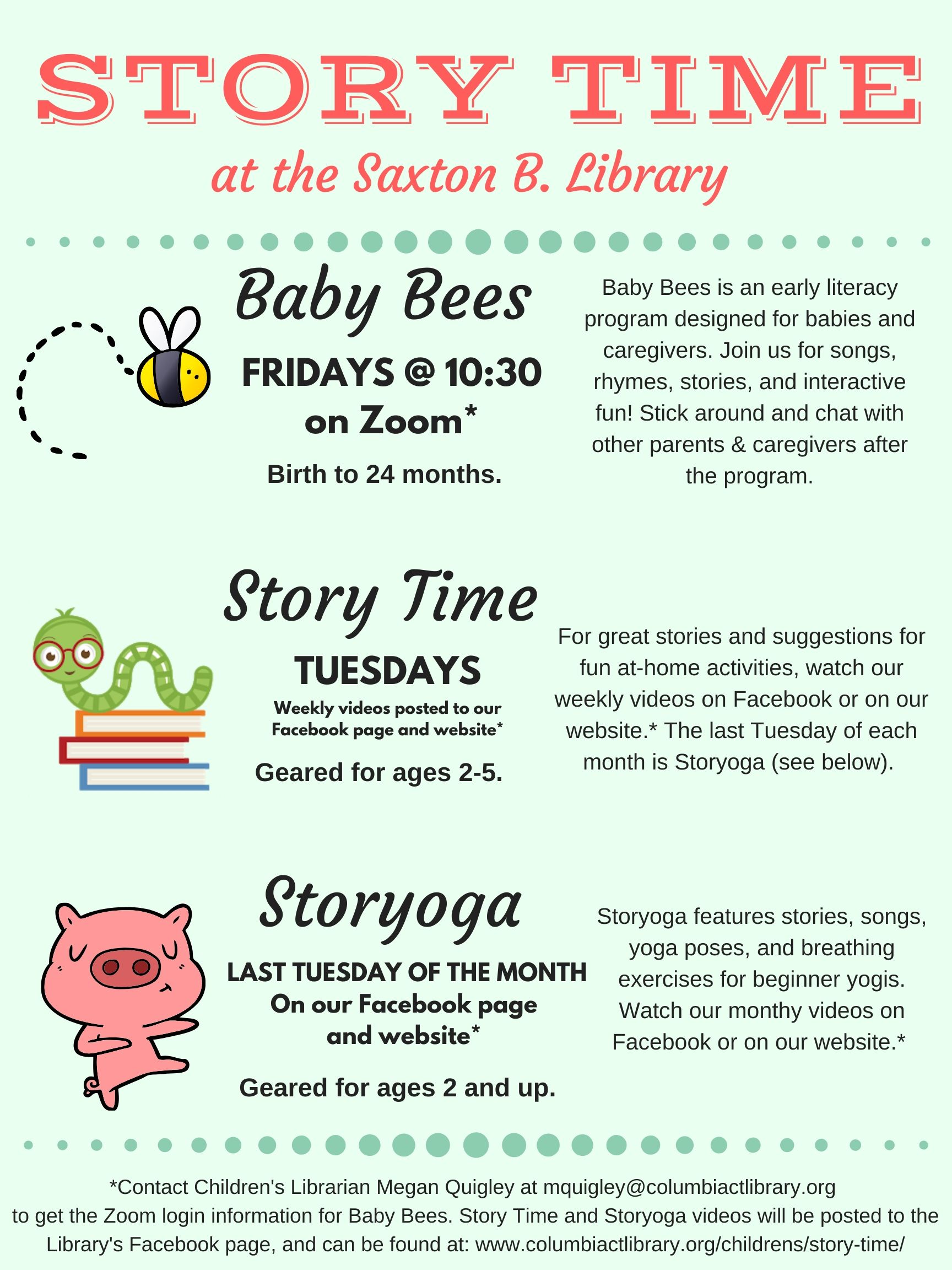 Baby Bees Lapsit Videos & Lyrics:
Video: Baby Bees 'Greatest Hits'
Video: Baby Bees Shaker Eggs
Video: Baby Bees Scarf Songs

Video: Baby Bees Rhythm Sticks
Video: Baby Bees Animal Songs

Video: Baby Bees Streamer Songs
DIY Streamers: Stick Streamers or try these Ribbon Rings
Video: Baby Bees Bell Songs
_______________________________________________
Story Time  & Storyoga
Videos and Activities:
Hi everyone, Megan here! Every Tuesday morning I will post a Story Time video to the Library Facebook page and here on our website. In each video I will share a story as well as ideas for some simple follow up activities you can do from home! Videos will remain up for one week. Storyoga videos will be posted on Facebook and here on our website on the last Tuesday of the month and remain up for one month. Past videos will be taken down as new ones are posted, but you can scroll down to view past titles along with their suggested activities and links.
Current Story Time Video & Activity:
Tuesday, August 4th:
Video: Du Iz Tak, by Carson Ellis
Activities:
Get a closer look at the illustration & learn more about decoding the text
Decoding and Inferring with older readers
Printable Du Iz Tak Finger Puppets
And of course, get outside and go on a bug hunt and discover the plants growing around you!
Current Storyoga Video:

Tuesday, July 28th: 
STORYOGA Video: Three Storyoga Songs/Stretches
STORYOGA Video: A Good Day for Ducks, Jane Whittingham
Storyoga Songs & Stretches Printable PDF:
Storyoga Songs
Past Story Time Titles and Activities:

Groovy Joe: Ice Cream & Dinosaurs, by Eric Litwin
Groovy Joe Activities:
Ice Cream Prints
Ice Cream in a Bag
Recycled Instruments
FREE Groovy Joe Downloads (songs & stories)
I Really Like Slop, by Mo Willems

Slop Activities:
Making Slop (Nature Soup)
Easy Cooking with kids
Mo Willems Lunchtime Doodles
Lets Sing a Lullaby with the Brave Cowboy, by Jan Thomas

Brave Cowboy Activities:
Make a Shooting Star
Hand Shadow Puppets
Indoor Forts
More Indoor Forts!
Crash, Splash, or Moo! By Bob Shea

Crash, Splash, or Moo Activities:
Build a Popsicle Stick Catapult
Build a Pencil Catapult
Build a Paper Towel Tube & Spoon Catapult
100 Cup Tower Challenge! Will it Crash??
Other great books for making predictions
Plant the Tiny Seed, by Christie Matheson
Tiny Seed Activities:
Tie Dye Coffee Filter Flowers
Cupcake Tin Flowers
Growing from Kitchen Scraps
Spring Scavenger Hunt
The Watermelon Seed, by Greg Pizzoli
Watermelon Seed Activities:
Watermelon Slime
Retelling the Story
Watermelon Seed Math
Caps for Sale: A Tale of a Peddler, Some Monkeys,
and Their Monkey Buiness, by Esphyr Slobodkina
Caps for Sale Activities:
Collect as many caps/hats as you can from around your house and:
1. See if you can walk with them all piled on your head.
2. Make an obstacle course and see if you can complete it wearing all the caps.
3. Make your own memory game:
Put all the hats out. Have someone in your family remove one hat while your eyes are closed. See if you can guess which one is missing!
4. Play 'Monkey See, Monkey Do' (like Simon Says, but say 'Monkey Says').
5. Make your own cap!
There are Cats in This Books, by Viviane Schwarz
Cats in this Book Activities:
Making Pop Ups – Ideas from the Eric Carle Museum Art Studio
Make a Pop Up Book
Cool Cat Crafts
I Ain't Gonna Paint No More! by Karen Beaumont
Paint Activities:
Painting with Q-tips
Painting with Nature
Painting with Trucks and Toys 
We're Different, We're the Same, by Bobbi Jane Kates 
Resources for Parents:
Watch the CNN & Sesame Street Town Hall on Racism
We Need Diverse Books: Resources on Race, Equity, Anti-Racism & Inclusion
The Brown Bookshelf: Stop & Think Reading List
Social Justice Books Multicultural Booklists
SBL READ WOKE Booklist: Picture Books*
SBL Diverse Stories: Picture Books*

*Learn more about READ WOKE HERE.
*This list is not exhaustive, and will continue to be updated. Find these lists on our Children's Reading Resources page as well. SBL Read Woke lists of JF, YA, and Adult books coming soon!
Saturday, by Oge Mora
Saturday Activities: 
LOTS of DIY Puppet ideas 
More simple DIY Puppets 
Paper Plate Flamingo Craft
Jabari Jumps, by Gaia Cornwall
Jabari Jumps Activities:
25 Backyard Water Play activities
Water Play for Toddlers & Preschoolers
You Matter, Christian Robinson
You Matter Activity:
Watch Christian Robinson read & learn how to draw a T-Rex!
My Friends Make Me Happy! Jan Thomas 
My Friends Make Me Happy Activities:
Letter & Number Scavenger Hunt Ideas
Alphabet Beginning Sounds Scavenger Hunt
Make a friend a homemade card to tell them why they make YOU happy!
Bubble Bath Pirates, by Jarrett Krosoczka
Activities:
Bubble Painting
Bubble Activities
Fun Bath Activities
Pirate Crafts
_________________________________________________________________