Looking for an idea of what to read next? We've got some recommendations for you!
Every quarter, Saxton B. Little Library staff name their favorite books of the last three months. We display a poster of everyone's choices by the New Books section at the Library – and now you can access the list online!
Click on the image below to see this quarter's staff picks. Then, click on each book cover to view the book in our online card catalog!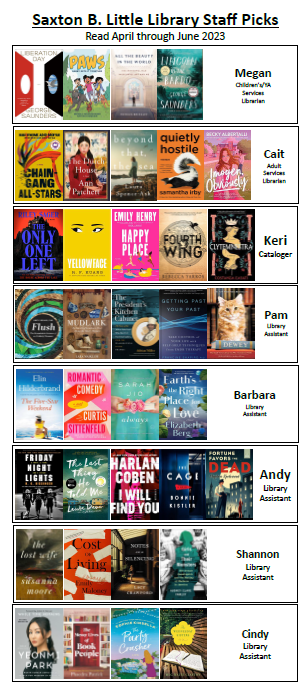 1st quarter 2023 list here
4th quarter 2022 list here
3rd quarter 2022 list here
2nd quarter 2022 list here
1st quarter 2022 list here
4th quarter 2021 list here
3rd quarter 2021 list here
2nd quarter 2021 list here
1st quarter 2021 list here
4th quarter 2020 list here
3rd quarter 2020 list here
2nd quarter 2020 list here
1st quarter 2020 list here
4th quarter 2019 list here
3rd quarter 2019 list here
2nd quarter 2019 list here
1st quarter 2019 list here
We've also compiled a list of Staff Recommendations for Audiobooks available on CD.