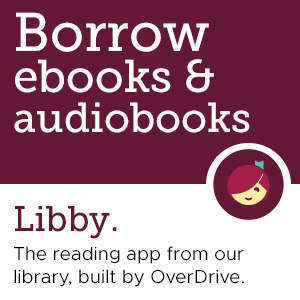 In case you missed it, our RBdigital eBook/eAudiobook platform is changing!
RBdigital was recently bought by another company, OverDrive, and we've been notified that our digital materials will be migrated on Monday, December 14th, much sooner than we anticipated.
What this means for you:
Starting the morning of December 14th (around 8:00am), RBdigital will turn off access to ebook and audiobook content in the RBdigital app as they move the titles to OverDrive. The content transfer itself may take a few hours and once complete, it could take up to 24 hours for titles to fully populate. RBdigital will post a message in the RBdigital app and on the site one week before the transfer and will redirect users to OverDrive after it's completed.
Once the transfer is complete, you'll need to download the new Libby app (OverDrive's digital platform), create a new account with your library card, and check out materials there.
We're sorry for any frustrations or inconvenience this change causes. This change was a result of a corporate buy-out, and neither SBL nor any other RBdigital library had any choice in this matter or the timing of this event. We will do our best to assist and make this an easy transition, but please note it's all new to us also and much of it is out of our control.
Click here to check out the special edition of our newsletter with more information and an FAQ, and email Cait at corlomoski@columbiactlibrary.org with any additional questions.